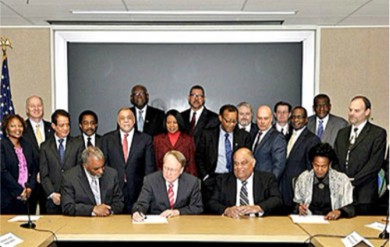 The University of the Virgin Islands was awarded a five-year, $1.3 million grant from the U.S. Department of Energy's (DOE) National Nuclear Security Administration (NNSA), as part of a White House strategy to strengthen cybersecurity expertise in America. The University has received the $1.3 million award over five years starting in fiscal year 2014-2015. Through the course of five years the University of the Virgin Islands is dedicated to build a K-20 cyber education pipeline in the Virgin Islands (hyperlinked 2a or 5a) with the help of the Department of Energy's National Nuclear Security Administration's cybersecurity consortium. Secondary students, undergraduates, graduate students and teachers will become trained and versed in cybersecurity.
"It is imperative for the Virgin Islands to tap into the pool of talents in the territory and prepare them to build safer cyberspace and protect our data, computers and networks."                                                          
                                                                                             ~ Dr. Boumedine.
The grant will help the National Nuclear Security Administration to institute a partnership with the next generation of future leaders, increase the number of minority students pursuing cyber security careers, and support NNSA in meeting its cyber security demands. The grants will also help to attract minority graduates for employment within NNSA laboratories and plants.
To learn more about this grant program click here.